http://scrappingsarah.blogspot.com/

It would be great to see you there :)
If there is anyone out there who reads this blog, l have made a new one:
I have to admit, the idea of a "clean up" does not sound like fun... in the slightest!

But when it comes to cleaning up my craft room at Michaels house, it IS fun!

I have reorganised and categorised all of my patterned paper into company, and surprise, surprise, l found some Bo Bunny!! So pleased! Some isn't a complete set, but l could still use what l've got. I remember getting a ton of patterned paper and cardstock from the liverpool store that closed down last year, Scissors Paper Smock.

That also means that l have more room in my drawers. I've stumbled over around 6 American Craft Thickers sheets that l could add to the collection mum and l have, as well as some camping papers/stickers.

I made a layout on Friday using the paper l bought from Scraploot earlier that day. Its not a particularly great layout, but l like how it looks, not too busy, not too plain. The photos are from when we planted the flowers at Michaels house. The papers are a wonderful range from Echo Park. I haven't got a photo yet as its not 100% finished, but it will be very soon.

The Eels unfortunately lost last night, but it was still a good game, just wish the Eels put in some effort!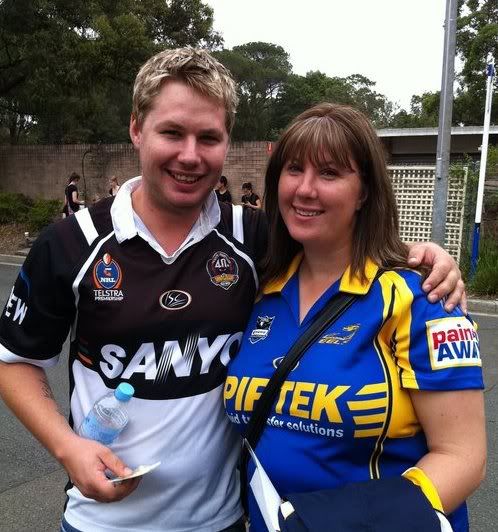 Yesterday was Caitlins baby shower, and next weekend is Adam's and Michaels tupperware parties! We are having a BBQ/Tupperware party at Michaels on the Sunday night, we went to a catering shop at Castle Hill and brought plates, knives/forks/spoons, table cloths and napkins all co-ordinating! Can you tell we're looking forward to it?!

The baby shower was so much fun! I won a few prizes and it was so good catching up with her again.Here is a layout l made tonight, using Crate Paper design and paper range.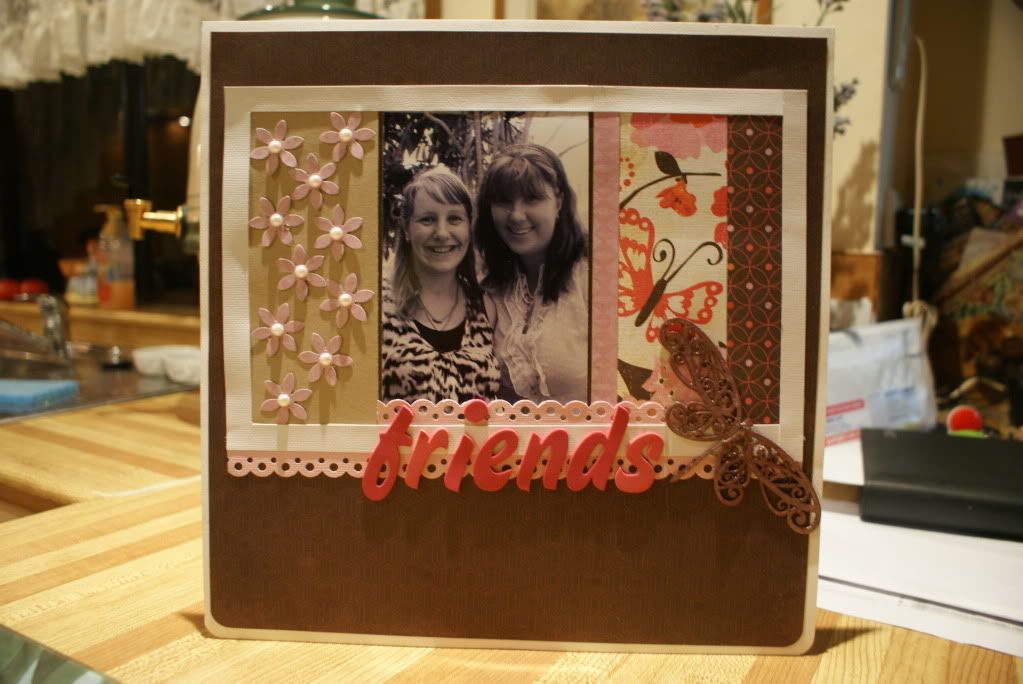 Current Mood:

content
Two different non-related items l have here for today. I couldn't be bothered scrapbooking on Monday, l had too much to do with putting all of my haul away nicely from the expo! I got off my butt this evening though and made this layout: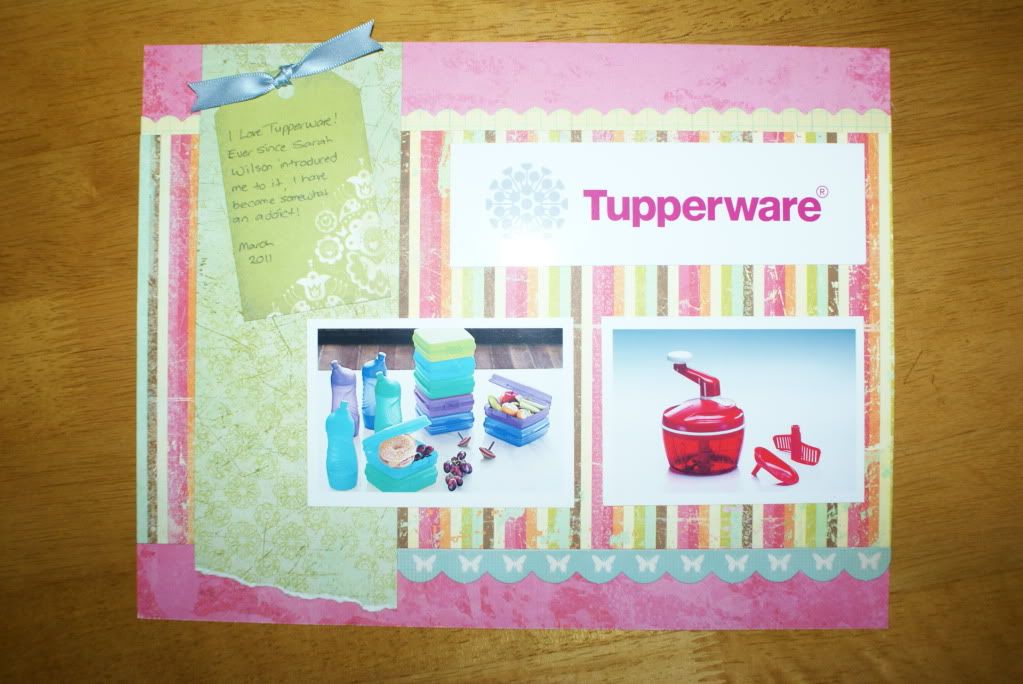 Yes, l know l have a problem! I can't help it, l love tupperware! Makes life so much easier!
Speaking of tupperware, l also got to haul the massive box home full of tupperware! We got so much stuff, loads of it for free too! I got the Quick Chef 2 above as well, works a treat. This paper range was Sweet Shoppee by Collage Press. Such vibrant colours! This one was 100% by me, no kit or anything.
My mum bought me a lamp the other day: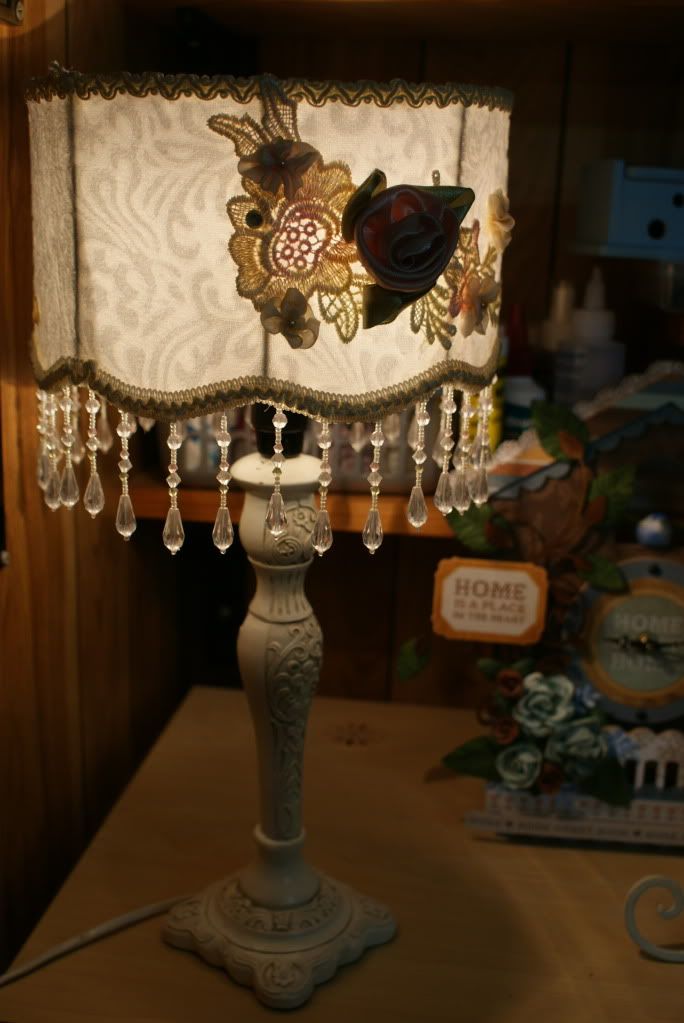 How pretty! I always keep turning it on, its so nice.
Other than that, not much has been happening, looking forward to the weekend, my RDO on Friday as well as the footy with Adam!
Till next time!
Current Mood:

cheerful



I completely forgot the expo was on this weekend! Lucky for me, we finished putting our new furniture in the lounge room, and as we were finishing we heard the advertisement on the radio, so we quickly packed everything up and dashed on over to the expo!

Not a big turnout for scrapbooking retailers, but there were still a lot of bargains! I got myself stamps, paper sets, cuttlebug embossing folders as well as this organisation thingy that l'm going to use for all of my kindy glitz l think:

As well as another cricut cartrigde (hey, they were so cheap! I couldn't resist not getting any!)




Yet another font cartridge! I love birds and using them on scrapbook pages/cards when l can, and this cartridge has a few images as well as the font.

I also got a mug (well, l got 2 technically, one for Michaels house and one for work)




"Craft Princess"! How cool is that?!

And Michael bought me this awesome shirt, its an XXL (they only had one size) and it swims on me but its a great nightie!




Michael was a wonderful bag holder (!) - all of the women we bumped into commented on how they wish their husbands/partners showed an interest in scrapbooking too, and to consider myself a lucky girl! He enjoyed looking at all of the lights and machines.

AND..

I've also updated my list of links on the side <------------- (they are probably a LOT higher up than just to the left though!) so they are more cricut related. I still read the other blogs which were up there before, but these will inspire me to use my cartridges in new ways.
Current Mood:

ecstatic

I would have posted this up WAY earlier, but livejournal was having troubles with its "posting" option.

So..

Yesterday l went shopping to two scrapbooking stores, Narellan and Campbelltown.

Bought so much stuff, but l got some awesome things which l've been wanting for a while:




Wild Card cricut cartridge, which has a LOT of envelope/card combos, as well as sentiments for all sorts of occasions.



Tie the Knot cartridge.

And my very first cricut lite cartridge, Sugar and Spice.

I also found, which l was super surprised at:




Another cricut book! This one looks really interesting, with layouts covering christmas, birthdays etc all in one book. I don't know how many other kinds of these cricut books are out there, but l couldn't believe it when l came across this one at Campbelltown.

I also made a layout for a friend's baby shower: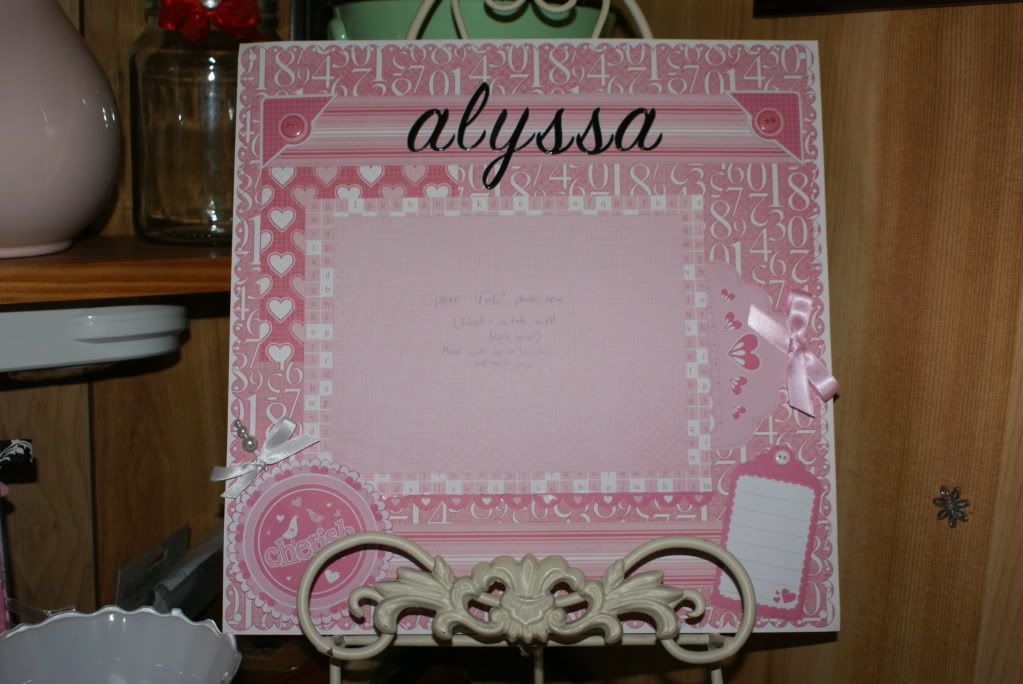 And a card with matching envelope: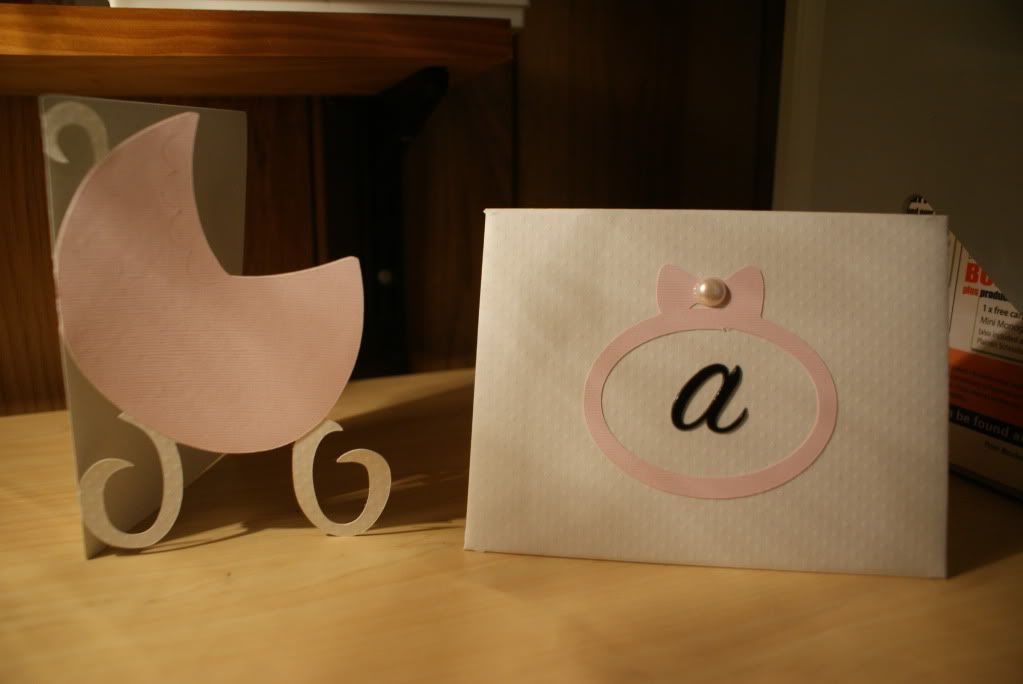 So Cute!
She told me she used to have an online scrapbooking shop, she did tell me the name but she said its been a while since she closed it down. She loves scrapbooking, as does her daughter. It was a good 15 or so minutes while she was looking before she realised she was supposed to be talking to me about my upcoming Tupperware party.
Until l do a blog post about Tupperware and how awesome it is, l have some photos of our updated scrapbooking area, and our brand new pink chairs that mum bought. Tupperware will have to wait until next time!
Brand new hot pink chairs - on wheels!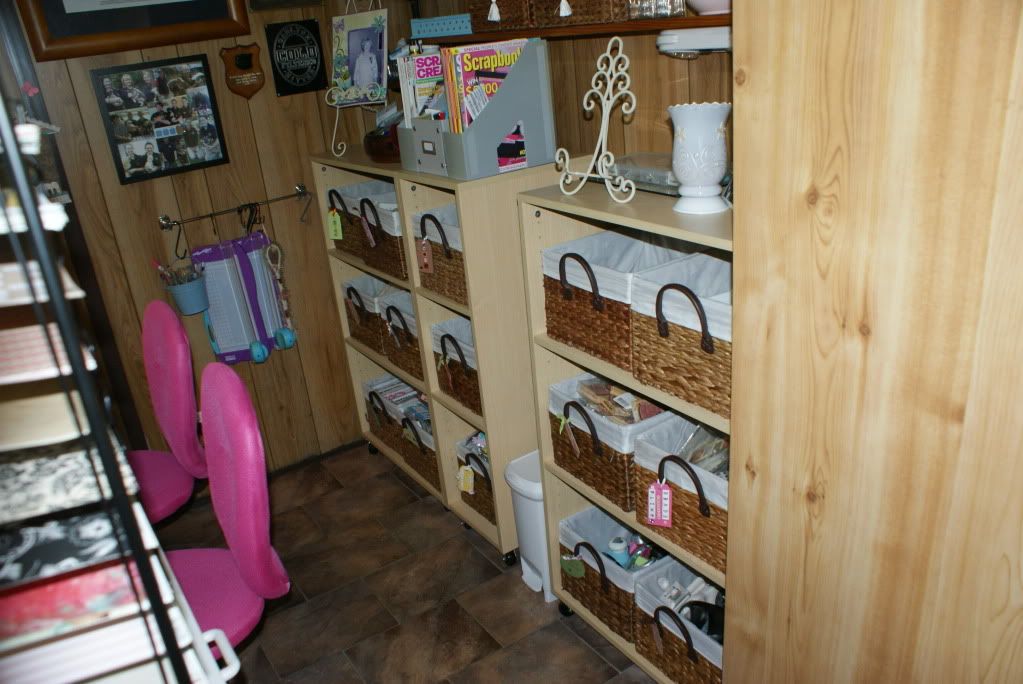 Side shot of our little area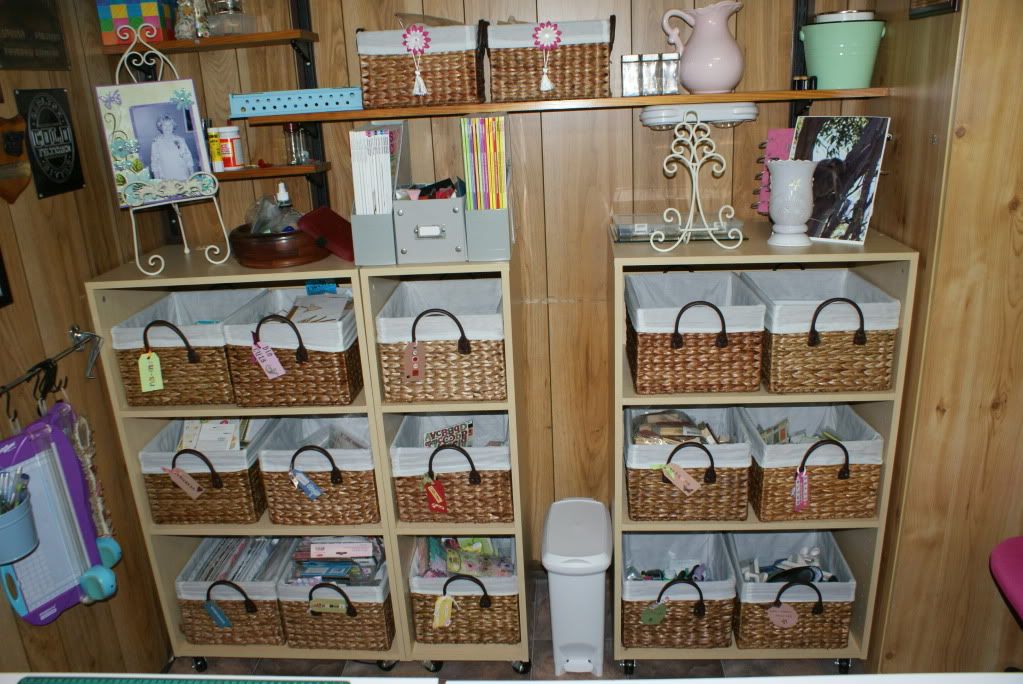 Really cute baskets mum bought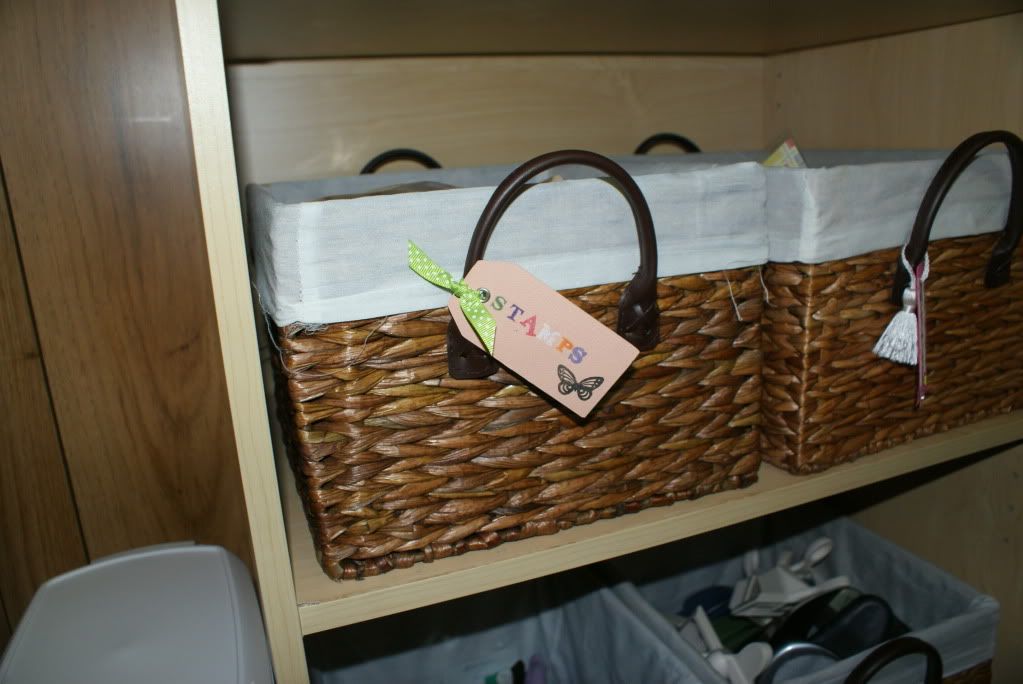 One of the many tags l made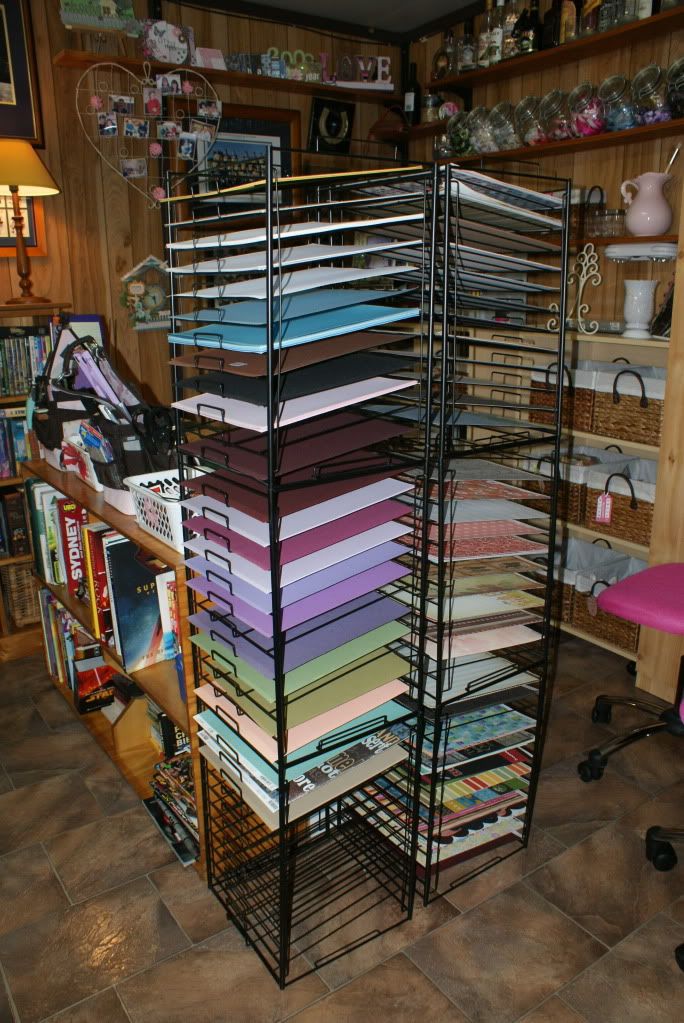 Our uber cool paper racks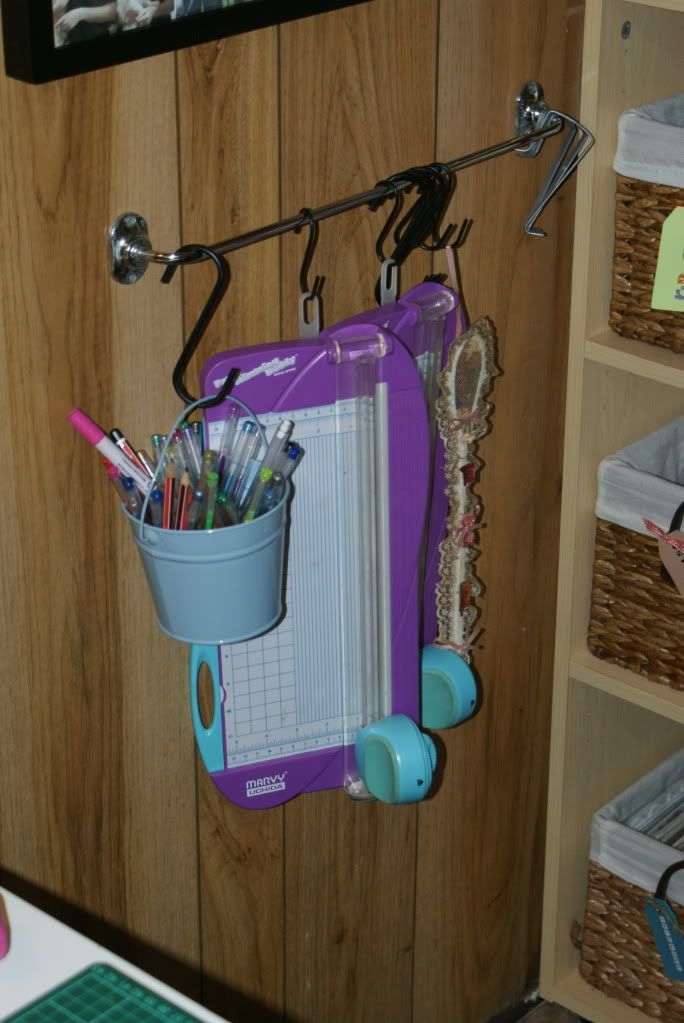 Smart idea...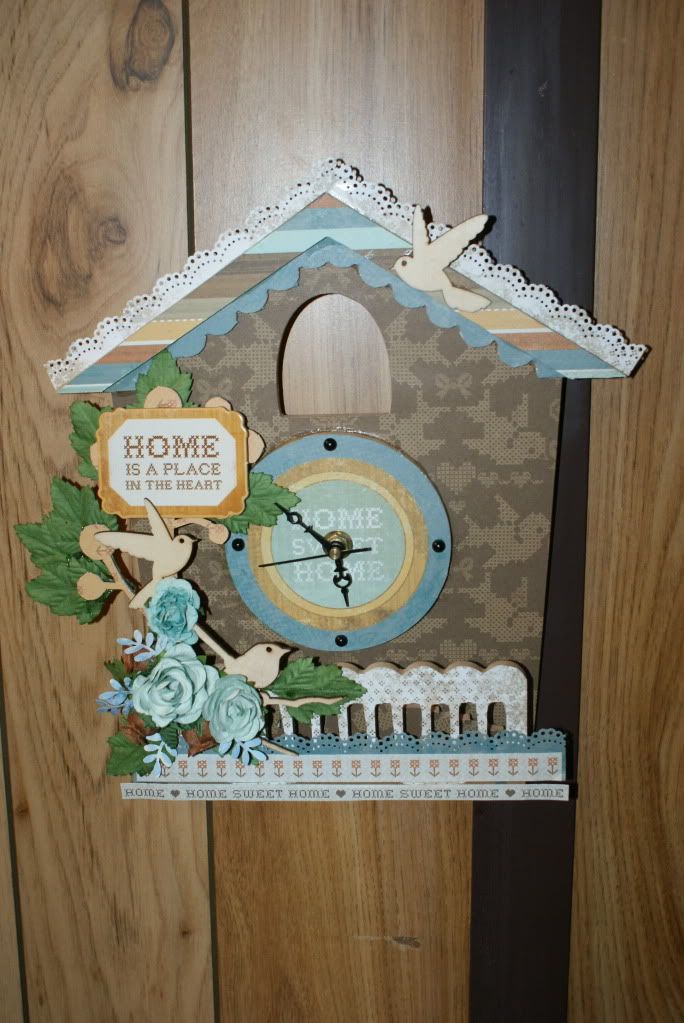 And this is the cuckoo clock l have been working on. I think its pretty much finished - only need a few more finishing touches.
And thats it! Thats our little creative space =D
Is what the daughter of the Tupperware demonstrator said as soon as she saw my mum and my little scrapbooking area. We had just sat down in the sunroom at the table and her daughter was so excited! Straight away Wilma, my Tupperware demonstrator, got up and said "oh my goodness what a lovely area you have!" She loved the storage we had, the organisation and colours.
I have made the other layout l had on my mind, with the collection from
Bo Bunny - Winter Joy
. I made this in around an hour - played around with it a bit, added some things, took some away. Mum found the perfect photo, so l had to fiddle with that, change it to black and white, enhance it using Photoshop, than print and cut to size.
Right now l'm just waiting for the
kindy glitz
to dry.
The butterflies are from my stash - a gift from Michaels mum. I used the patterned paper as a focus point (with that gorgeous flower, who could resist?) Cut out some flowers using the
cricut
and then used the
cuttlebug
to emboss. Added some bling,
kindy glitz
and voila!
My grandma looks so pretty :)
I am really loving this whole 8.5" x 11"!
Current Mood:

peaceful
Their website has lots of great layout ideas you can use as well as card ideas.
I made this layout yesterday: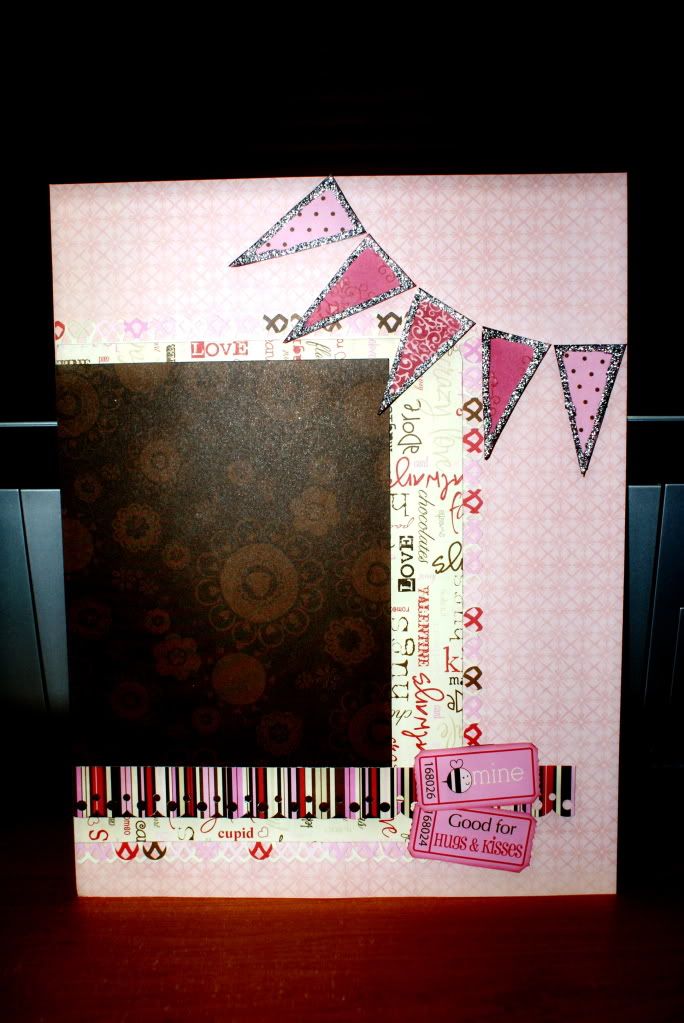 Excuse the flash!
Its my second go at a 8.5"x11" size layout. I'm really pleased with it! The colours look a little different in person, but you get the idea.
No photo yet, l haven't decided on one!
I'll be making another of this size soon.
I have fallen in love with the new ranges from Bo Bunny - Crazy Love and Winter Joy.
Current Mood:

creative

Current Music:

101.7
Really needed that break! It was nice to get away from it all, not look at the clock, sleep in until whenever, stay up until whenever, not having to cook or clean. It was heaven on earth!!
While we were away, and being the obsessed and addicted scrapbooker l am, l just HAD to check out the local scrapbooking shops!
There was one on the main drag of The Entrance, Di's Scrapbooks. Such a CUTE little shop!! I spent so much money in there but so worth it!!
Went to another one in Tuggerah, spent loads in there too but again so worth it - l found this awesome book:
How kick butt is that?!?!
I have poured over it and so many other things l bought. I picked up around 5 more cuttlebug embossing folders for super cheap.
As well as this nitfy little tool l'm looking forward to trying:
I got some of the attachments - zig zag, and blanket.
I am looking forward to playing with the rest of the stack of things l bought, better hop to it! First, l'll check out some blogs =D
Back from a fantastic holiday getaway with my one and only.


Lately l've been shopping for supplies and decorating a clock, a Kaisercraft Cuckoo Clock to be exact.

I've chosen to use the Homemade paper range, it is so darling with its old style images and quotes. I did cheat and scraplift a design l previously saw. I've been adding to it slowly each few days.

I'm going to be working on it again tonight, as well as looking at my new magazine l just got in the mail - Creating Keepsakes. Might get some ideas.
I was lucky! I managed to make the next 3 pages for the Lightning Ridge album. Really pleased with my efforts.